I hate to be the bearer of bad news, but this is something every adult should know — particularly if you're a baby boomer, retired, or a solo senior . . .
Loneliness kills.
And no, this is not hyperbole or "fake news." Research confirms that emotional isolation ranks as high as smoking when it comes to risk factors that can shorten your life.
This does not mean we are a nation of emotionally immature adults who need to be coddled.
On the contrary . . .
According to longevity expert Dr. Gary Small, our need for intimacy and socialization is hardwired into our brain. This makes the quantity and quality of your social connections crucial to your ability to enjoy a long life.
Long-Lasting Loneliness Doesn't Just Make
You Sick — It Can Actually Kill You
John Cacioppo is a leading psychologist specializing in the study of loneliness. He reports that loneliness not only speeds up death in sick people, but also makes healthy people sick by putting them into a stressful fight-or-flight mode.
You might think that being lonely simply means you are depressed. To be clear, while loneliness can be a symptom of depression, they are not the same thing.
So what does "loneliness" really mean?
Well, experts in the field say loneliness is the state of being socially isolated and deprived of intimacy.
And now, researchers have linked chronic loneliness to numerous physical ailments.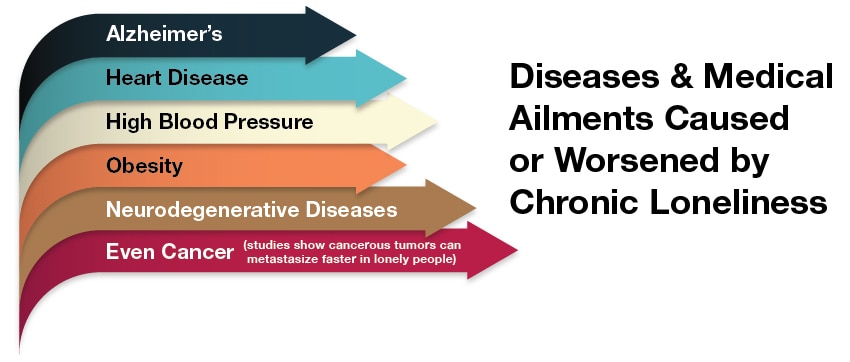 Loneliness Is a Public Health Risk for Our Nation's Seniors
As you might imagine, loneliness is a huge problem for America's older population.
That's because seniors so often lose connections with relatives, spouses, friends, neighbors, and co-workers.
I'm sure you've seen this happen in your own life as you grow older.
Statistics tell us women are lonelier than men, and the retired are lonelier than the employed.
An AARP loneliness study surveyed 3,012 Americans age 45 and older. They found that:
35% of adults 45 and up are lonely.
This means over 42.6 million older adult Americans suffer from chronic loneliness.
Those in poor health are more likely to be lonely.
Those with lower incomes are more likely to be lonely.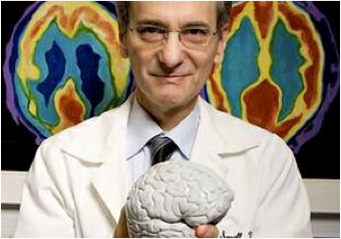 Gary Small, M.D.
Brain and Longevity Expert
All these ominous facts and figures worry Dr. Gary Small.
Gary Small, M.D., is the director of the UCLA Longevity Center, a medical researcher, and a professor of psychiatry.
He lectures throughout the world as a noted brain expert and has written six books about memory and brain health. Over 40,000 readers subscribe to his popular monthly newsletter Mind Health Report.
And while Dr. Small focuses on brain health factors such as eating right, getting regular exercise, and maintaining a strong memory, he now wants to bring attention to the shocking effects of loneliness and relationships on health and lifespan.
That's why he has written about this subject for Newsmax Health in a special report you can get at no charge with a special offer available only to readers of this letter.
Your FREE Report Will Help You Enhance
Your Relationships for Greater Longevity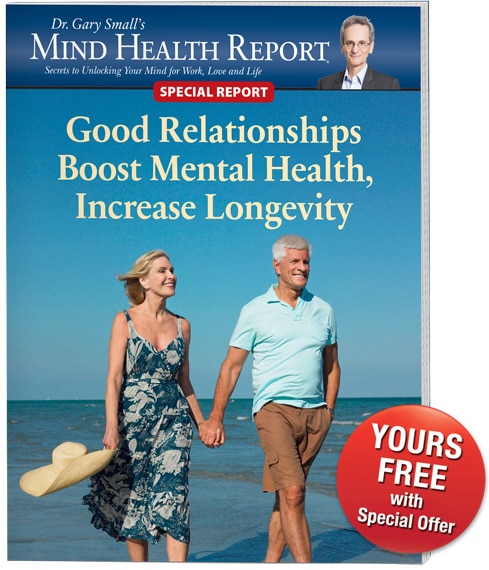 In Good Relationships Boost Mental Health, Increase Longevity (a $9.95 value), Dr. Small explains how social connection is totally necessary for healthy brain development. Children who have been deprived of nurturing relationships experience more frequent emotional and cognitive problems.
This need for social interaction extends throughout the lifespan. Research shows that people who maintain ongoing positive relationships live better and longer lives.
Conversely, being socially isolated can threaten your health and lead to many disorders — even psychosis.
Dr. Small also brings up an important point for those of us who are in middle age or older. People who maintain good social relationships and connections have lower risks for cognitive decline.
This is particularly important, given that Alzheimer's is on the rise — now attacking 5 million Americans.
And that's not the most surprising thing you'll hear about . . .
A Healthy Sex Life Increases Life Expectancy
As you'll see in your special report, researchers have found that sexual activity causes the release of endorphins and other hormones. This results in additional relaxation and more restful sleep, which boosts brain health.
A healthy sex life not only improves mood — it also raises life expectancy.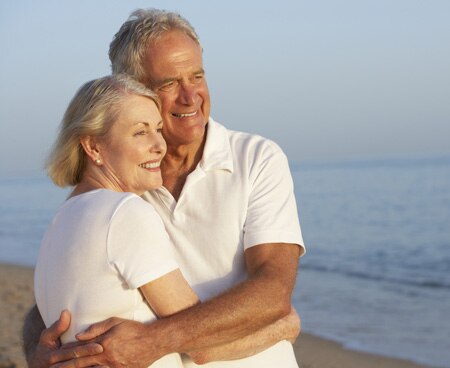 One 10-year British longitudinal study found significantly lower mortality rates in men who had more frequent sexual relations.
Sexual feelings lead to the release of DHEA, a hormone that gradually declines after age 30. This hormone bolsters cardiac health, which could explain why more frequent sexual activity results in a longer lifespan.
And for those who are not currently sexually active, Dr. Small shares that simple physical expressions such as hugging can improve your brain and body health, and even reduce blood pressure.
Your FREE report Good Relationships Boost Mental Health, Increase Longevity is full of helpful information you can use.
You will also discover:
How the "love molecule" and other hormones released by intimate relationships help reduce fear, pain, and stress — and contribute to a longer life . . .
7 of Dr. Small's best tips to help you maintain healthy relationships . . .
Why your dependence on new technology such as computers and smartphones could damage your social connections . . .
How delaying retirement slashes your risk for mental deterioration . . .
An easy way to upgrade your listening skills and strengthen your relationships . . .
The biological reason why women have an easier time staying socially involved . . .
How to use humor to feel closer to others and boost your brain health . . .
And much more . . .
But we're not done yet . . .
Your Second FREE Report Reveals Even
More Secrets to a Longer Life
Have you ever heard of The Longevity Project?
In 1921, Dr. Lewis Terman, a Stanford University psychology professor, designed a study to identify the potential for leadership in bright children. His original study meticulously detailed the lives of 1,500 subjects, starting at about age 10 and continued until death.
Dr. Terman himself died in 1956 and never saw the results of his study. Fortunately, his colleagues compiled a wealth of data on personality traits, behavior patterns, personal goals, religious practices, military service, jobs, marriage and divorce, as well as illnesses, traumas, and stressful events.
Later, along came two behavioral scientists, Dr. Howard Friedman and Dr. Leslie Martin. They conceived of a new study they dubbed The Longevity Project.
As it turns out, Dr. Terman and his graduate students had asked nearly all the right questions for a meaningful longevity study. So Friedman and Martin just picked up where the Terman researchers left off, but with new goals and modern methods.
They spent 20 years studying the Terman databank, analyzing and comparing it to other studies on health and longevity.
Friedman and Martin compiled their startling conclusions in a book detailing the secrets and myths about what it takes to live a long, healthy life.
An 80-Year Landmark Study Proves Conventional
Wisdom on Health and Longevity Is Mostly Wrong
You don't need to wade through a long book to get the highlights from this landmark study.
That's because we're going to send you a special issue of the popular monthly newsletter Mind Health Report.It's called How to Live Longer — The Top 10 Myths.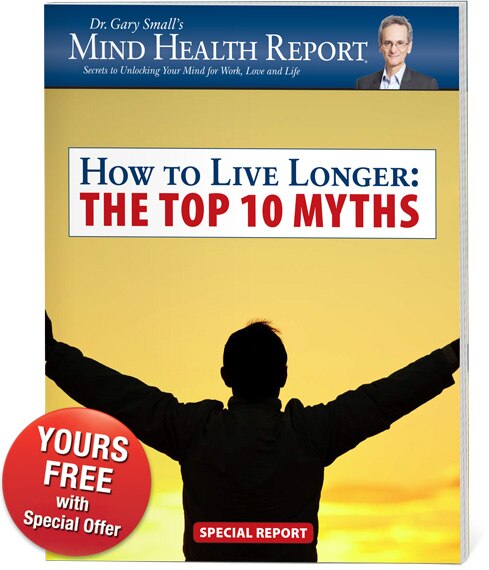 In your report, you'll see an in-depth interview with Leslie Martin, Ph.D., one of the researchers involved with The Longevity Project.
As Dr. Martin will share with you, there are many pathways to a long and healthy life. And they don't all involve eating your broccoli and exercising like mad!
For one thing, you'll see why the idea that "worry leads to early death" is a myth.
In fact, the top 25% of worriers in the study actually lived longer — though worry did not rule their lives.
Among the widowed, those who scored low on the worry scale were 50% more likely to die within a few years. You'll find the pros and cons of being a worrier in your FREE special report — another $9.95 value.
In How to Live Longer — The Top 10 Myths, you'll also discover:
The surprising effect of generosity on your life expectancy . . .
Why optimism can become a liability that puts your life at substantial risk (find out why rose-colored glasses are NOT your best prescription for health and longevity) . . .
Why hard work won't kill you and why workaholics may, in fact, live longer (see when this is true — and when it is not) . . .
While going to church does not help you live longer, the two religious factors you'll see on page 6 of your report can indeed extend your life . . .
Good news: You don't have to exercise vigorously to live longer (read what you should do instead) . . .
Why people with a strong conscience do better in life (and live longer, too) . . .
Plus much more . . .
In Addition to Your FREE Reports, You Will
Also Receive a Mind Health Report Bonus
Because your brain health is so crucial to your longevity, you'll also get a 3-month trial subscription to Dr. Gary Small's Mind Health Report, the popular monthly newsletter from Newsmax Health.
Dr. Small is so busy that he just doesn't have the time to help everybody individually. That's a major reason why he became medical editor of Mind Health Report — to help more people across the United States and even worldwide.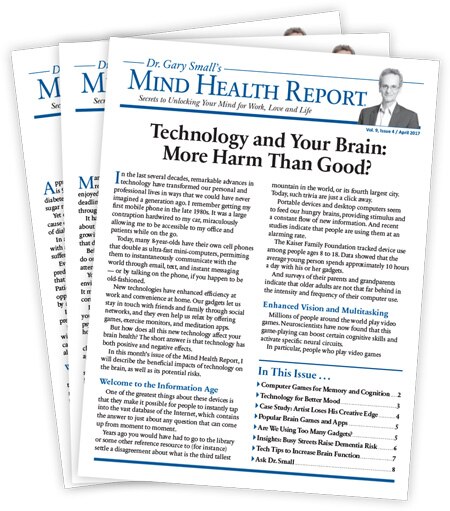 You'll discover how to sharpen your memory, beat back depression, make better decisions, improve your family life, and gain other tips to protect your body's most important organ.
You'll enjoy topics such as:
Simple and fun brain exercises
Lifestyle tips to keep your mind alert and focused
Memory disorders and how to reverse them
Natural supplements that aid mental functioning
Nutritional advice for a happy brain
Physical exercises that don't wear you out
How to deal with stress, anxiety, and insomnia
Overcoming fatigue, depression, and other disorders
And much more
I'm sure you'll love reading Mind Health Report every single month. And all your relationships and social connections will certainly benefit. But you are under no obligation to continue your subscription. Your satisfaction is guaranteed.
Plus, during your trial subscription, you'll have the entire archive of Mind Health Report at your fingertips — with 24-hour access to all past issues (79 issues and counting). Here are a few of the newsletters you can peruse at your leisure any time, day or night: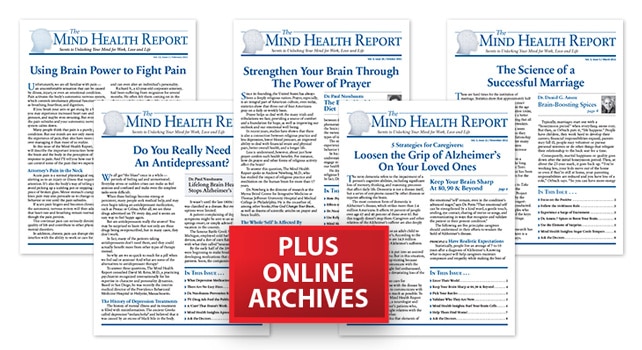 And those are just a sample. You'll find dozens more.
We'll Also Send You Another Bonus Report Telling
You How to Live to 100 — in Good Health
The latest scientific findings on longevity offer genuine hope that it may be possible to slow and even reverse the aging process, allowing people to live to 100 and beyond in robust health.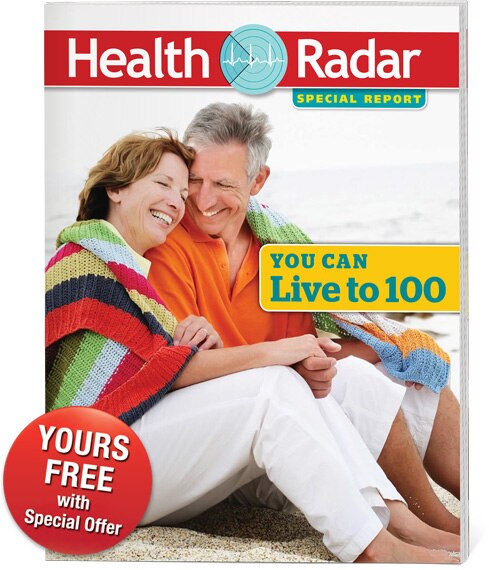 Health Radar, one of the largest monthly health newsletters in America, has published a special report detailing this new longevity research. It's called You Can Live to 100.
In your third FREE bonus report (another $9.95 value), you'll discover how genetics do NOT play a dominant role in how long you'll live. In fact, they only contribute 25%-30% to your potential for a long life.
Other key factors include your lifestyle habits, environmental influences, and the ongoing stresses you experience from physical and emotional injuries and events.
Each of these factors exudes a trickle-down effect on your body — worsening inflammation, hormonal and metabolic changes, and other threats leading to premature aging.
In You Can Live to 100, you will see:
Details about a Harvard breakthrough involving resveratrol (found in red grapes), which may help stave off illnesses of aging . . .
Top 4 Mediterranean longevity secrets to help you increase your lifespan . . .
The real truth about using HGH (human growth hormone) for anti-aging . . .
10 things Americans eat that are banned in other countries (how many of these foods are

you

eating?) . . .
PLUS: 3 easy ways to reverse prediabetes . . .
How chubby people live longer than their slim friends . . .
And much more . . .
We've also approved your 4-month, risk-free trial subscription to Health Radar — plus access to the entire online archive dating back years.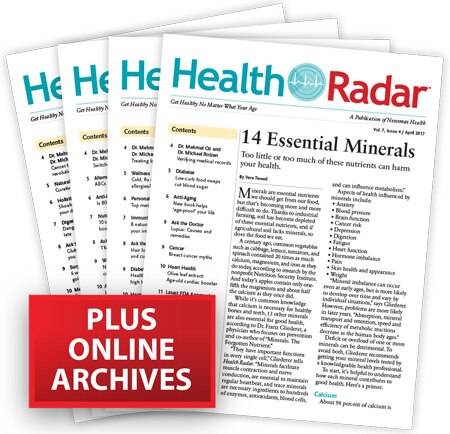 Each month, Health Radar provides you with the latest studies, updates, and medical advancements from the worlds of both conventional and alternative medicine.
With interviews from guest medical experts and health advocates like Dr. Oz and Suzanne Somers, you'll find Health Radarpacked with the information you need to help fight or prevent cancer, memory loss, arthritis, heart disease, depression, Alzheimer's, high cholesterol, and many other health conditions.
Health Radar is also jam-packed with tips, tricks, and strategies to protect you from unnecessary treatments, dangerous pills and procedures, and sky-high medical costs. Plus, you will learn how to add many years of robust health and vitality to your life and the lives of your loved ones.
And remember, you are under NO obligation to continue withHealth Radar. Your satisfaction is guaranteed.
As you've seen today, loneliness can be lethal.
You simply can't afford to ignore these threats to your own survival, and the longevity of those you love. Not when the answer to solving this problem could be at your fingertips right now — and at no cost with this special offer.
Please click the link below now to activate your special offer — just say "no" to loneliness.
To Your Continued Health & Longevity,

M. Monahan
Newsmax Health